Day 1 - Introduction, GRATITUDE is an apple, and a story of a Queen
What to expect!
Before we get started I want to tell you a little about what you can expect. Some days might have different 'tools' but each day we will take time to write down the things we are grateful for and if you can't find anything to be grateful for, this course will help you discover them. Some of the tools that we will use are PDF worksheets, videos, audio and/or exercises. There may be a meditation or story shared too. For five of the seven days we will focus on a specific topic. A brief outline is listed below.

Introduction
Day One starts with a quick video introduction to welcome you and introduce myself. Followed by a look at what gratitude is exactly - hint it's not an attitude. Then a personal story of my own gratitude practice and we'll also be creating our first list that you can either complete in your own journal or notebook or you can use the PDF worksheet that I've provided below. No matter if you use the worksheets or not, please read them as there are questions to answer and a daily task. And I am also sharing a story about a Queen adapted from a Sufi tale.
Today's Task
Do something unexpected for someone today.
Details are on the worksheet.
When to practice gratitude -
There is no wrong or right time, there is only simply every day, always, now or as your life happens.
When you feel happy.
When you feel like everything seems to be just right.
When you feel sad.
When you feel cranky.
When the small things are annoying you.
When big changes happen in your life.
When small changes happen in your life.
I've also included an audio version of the article and story read by me that you can download so you can listen in your car or when you are offline.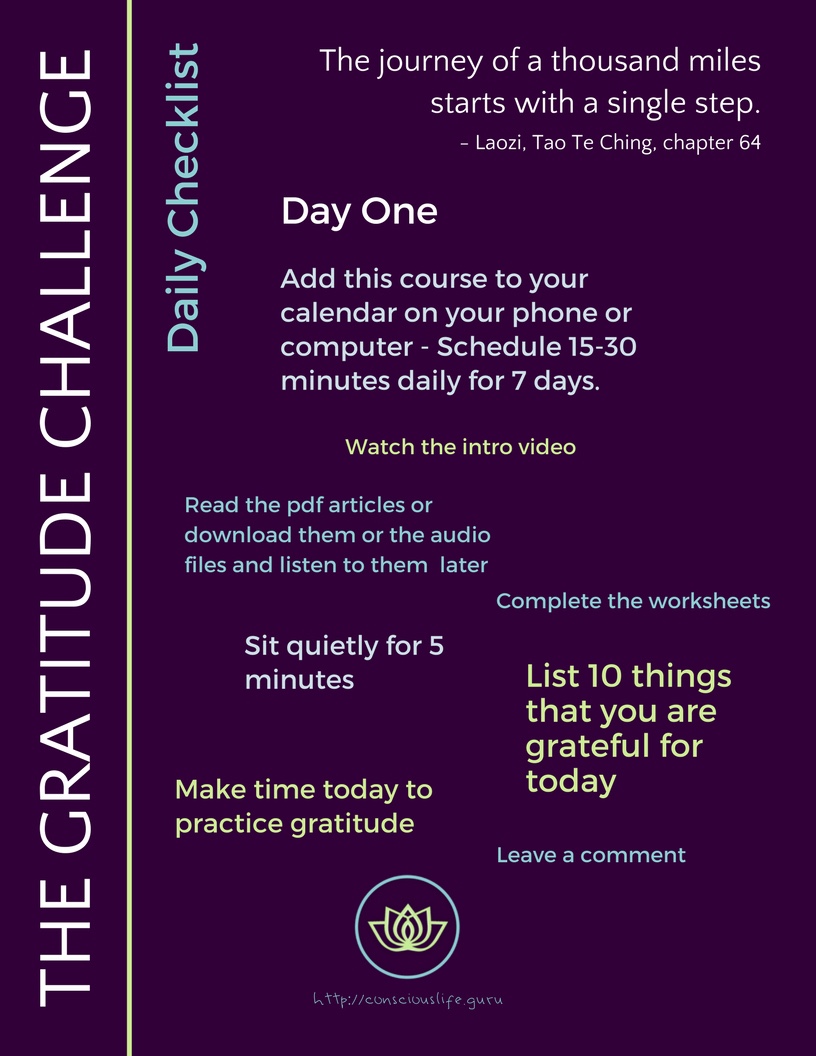 A Brief Outline

Day One: Gratitude

Day Two: Focus

Day Three: Focus

Day Four: Focus

Day Five: Focus

Day Six: Focus

Day Seven: Moving Forward
what-is-gratitude-gratitude-for-all-the-extremes.pdf
AUDIO FILE MP3
What is gratitude? The answer can be found in an apple and Gratitude for all the Extremes and In-betweens
Listen here or download to listen to anywhere at anytime.
Gratitude-The-wisdom-of-a-sage-a-queen-and-a-ring-2pages.pdf
AUDIO FILE MP3
The Wisdom of a Sage, A Queen and A Ring
Listen here or download to listen to anywhere at anytime.
Today's Gratitude Worksheets
Today's worksheets include one page with questions for you to answer and a task to perform today and your printable gratitude list/journal page.
gratitude lists and dig deeper.pdf
Thank you for joining me. We live in an amazing time in history where we can communicate in an instant with anyone, anywhere in the world. It is my hope that anyone who wants or needs this practice in their life, that they will find it and share it with others. Please feel free to comment below to discuss the story or other materials or simply say hello!